Miami Cruise Ship Passenger Injury Attorney
REPRESENTING INJURED CRUISE PASSENGERS AND SEAMAN UNDER MARITIME AND ADMIRALTY LAW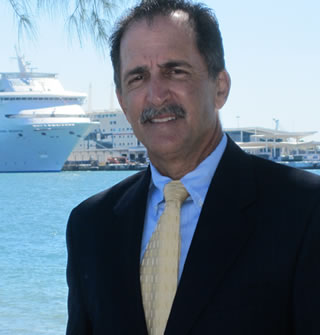 The Miami, Florida Law Offices of Robert C. Gross, P.A. represents people injured on cruise ships and those with admiralty/maritime disputes specifically seaman, passengers and other individuals, regardless of their status, for injury claims and wrongful death while on the water, through out the United States.
The majority of the firm's admiralty practice concerns causes of action arising under the Jones Act 46 U.S.C.§ 30104 and General Maritime Law, including claims by seaman against their employer, and the owners or operators of the vessels upon which they serve, for personal injuries, wrongful death, contract disputes and/or wage claims. The firm also represents passengers for injuries sustained aboard cruise ships as well as claims for plaintiffs injured on private watercraft.

AV RATED - Robert C. Gross is recognized as a "preeminent lawyer" by Martindale Hubbell and received their AV rating. The AV rating is the organization's highest rating of legal ability based upon a survey of other practicing attorneys. Martindale Hubbel recognized Robert C. Gross as a legal professional who follows strict ethical standards and he has been acknowledged by his peers for his exceptional legal ability. Robert C. Gross's AV rating includes a rating of 4.8 out of 5 in Admiralty & Maritime Law (Maritime Law, Cruise Ship Injuries and Maritime Personal Injury).
Miami maritime lawyer Robert Gross is a cum laude graduate of the Hun School of Princeton N.J., a graduate of Rutgers University and a 1975 graduate of the University of Miami School of Law. Mr. Gross is a member of the Florida Bar (1975) and the Federal District Court Trial Bar for the Southern and Middle Districts of Florida.
Attorney Robert C. Gross is a Miami, Florida maritime, admiralty attorney experienced in cruise ship claims, cruise slip and fall, cruise trip and fall claims, passenger injury claims, seaman injury claims. Our recent cases include cruise ship claims against Norwegian Cruise Lines, Carnival Cruise Lines, Celebrity, Princess Cruises, Royal Caribbean Cruise Lines and are based on passenger injury and cruise accidents. Call Robert C. Gross at 305-670-9009 if you need a cruise ship passenger injury lawyer.