Miami Maritime & Admiralty Attorney - Florida Cruise Ship & Boat Accident Lawyer
REPRESENTING INJURED SHIP PASSENGERS AND SEAMAN UNDER MARITIME AND ADMIRALTY LAW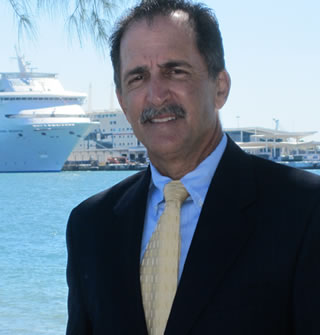 The Miami, Florida Law Offices of Robert C. Gross, P.A. represents those with admiralty/maritime disputes specifically seaman, passengers and other individuals, regardless of their status, for claims arising from personal injuries and wrongful death on the water, in State and Federal courts through out the United States.
The majority of the firm's admiralty practice concerns causes of action arising under the Jones Act 46 U.S.C.§ 30104 and General Maritime Law, including claims by seaman against their employer, and the owners or operators of the vessels upon which they serve, for personal injuries, wrongful death, contract disputes and/or wage claims. The firm also represents passengers for injuries sustained aboard cruise ships as well as claims for plaintiffs injured on private watercraft.

AV RATED - Robert C. Gross is recognized as a "preeminent lawyer" by Martindale Hubbell and received their AV rating. The AV rating is the organization's highest rating of legal ability based upon a survey of other practicing attorneys. Martindale Hubbel recognized Robert C. Gross as a legal professional who follows strict ethical standards and he has been acknowledged by his peers for his exceptional legal ability. Robert C. Gross's AV rating includes a rating of 4.8 out of 5 in Admiralty & Maritime Law (Maritime Law, Cruise Ship Injuries and Maritime Personal Injury).
Miami maritime lawyer Robert Gross is a cum laude graduate of the Hun School of Princeton N.J., a graduate of Rutgers University and a 1975 graduate of the University of Miami School of Law. Mr. Gross is a member of the Florida Bar (1975) and the Federal District Court Trial Bar for the Southern and Middle Districts of Florida.
Miami maritime and admiralty Robert C. Gross, P.A., provides legal services in the following areas:
MARITIME CLAIMS - Any of a variety of different claims governed by the very specific body of law peculiar to the rights of seamen and shipboard passengers, to transportation by water, whether on the high seas, in bays or harbors, in rivers and on lakes and other navigable waterways.
FEDERAL AND STATE ADMIRALTY CLAIMS - Lawsuits brought in either federal or state court that are governed by general and statutory maritime law. Typically, these claims involve injuries to passengers or crew members aboard ships in navigation, but may apply to recreational watercraft accidents as well.
CREW MEMBER CLAIMS - These are cases brought by seamen against their employer, and the owners or operators of the vessels upon which they serve, for personal injuries, wrongful death and contract disputes of one kind or another, including wage claims.
CRUISE PASSENGER CLAIMS - These cases usually deal with personal injury or wrongful death claims arising when passengers are injured aboard cruise ships.
MAJOR PERSONAL INJURY CLAIMS - Claims made by persons who suffer significant injuries and damages in some sort of accident aboard ship.
PRIVATE AND PLEASURE WATER CRAFT TORT CLAIMS - These cases involve injuries sustained on private or pleasure watercraft. They are usually based on negligence.
RAILROAD EMPLOYEE CLAIMS - Although unrelated to navigable waterways these claims are governed by the Federal Employers Liability Act (FELA), a federal statute which provide for damages for railway workers who are injured due to unsafe working conditions. Many of the rules and other legal requirements are very similar to maritime and admiralty law cases.
If you need the assistance or legal advice of an experienced maritime and admiralty lawyer, please contact the law offices of Robert C. Gross, P.A., today at 305-670-9009, or complete the contact form provided on this site to begin your free consultation with a Florida serious injury maritime attorney. Spanish-speaking services available.